Plastic Dip Trays
SKU# 5700301
Plastic Drip Trays / Fits HD-7 and HD-9 Series Lifts / Set of Two
---
A lightweight, cost-effective solution to drips, these drip trays will catch harmful fluids and keep them in one place to protect your vehicles and garage flooring. Sold in sets of two.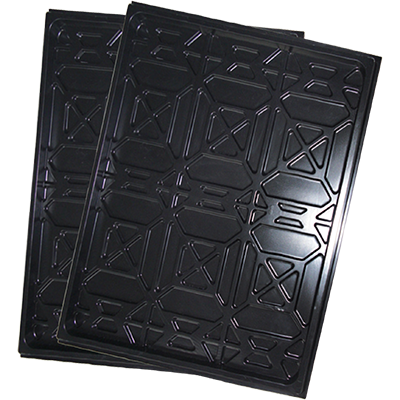 Two Splash-Resistant Drip Trays
Polypropylene drip trays from BendPak are a cost-effective solution to a messy problem. A reversible design allows them to accommodate BendPak four-post lifts with the runways positioned either wide or narrow. Sold as a set of two, these drip trays are an essential four-post lift accessory, especially if you have a vehicle that leaks. These affordable, impact-resistant polypropylene drip trays are rugged, light and help solve the common problem of potentially harmful drips.
Sold in packs of two, each tray comes with 56 articulated catches and gutters to restrain the fluid from sloshing out, so all that oil, coolant and muck stays neatly contained within individual compartments, even when carried or bumped. A smart, black colour scheme hides the appearance of stains and blemishes.
Features
56 articulated catches and gutters
Set of 2
Lightweight
Flexible
Impact and wear resistant
Fits any BendPak 4 post ​lift, either wide or narrow configuration
Plastic Dip Trays Specifications
Weight (Set of 2)
3 kg (7 lbs.)