BendPak Two-Post Lifts: Always Ready for Business
​Our rugged two-post lifts are designed to handle all of your auto lifting applications. BendPak models service up to 18,000 lbs. We know you demand uncompromising quality from productive machines that maximize lift time and get the job done safely. That's why our rugged two-post ​lifts deliver on our promise of superior performance. It's what BendPak clients have come to expect from our equipment.
Our two-post ​lifts are respected all around the world for their top-notch craftsmanship, forward-looking technology and feature-rich designs. Automotive service pros have been raving about our auto ​lifts for years. If this is your first BendPak purchase, you're about to find out what sets us above the rest.
---
---
---
---
---
---
---
---
---
---
---
Get a High-Capacity Two-Post Car Lift
No matter the capacity of the model you choose, BendPak has an ALI Certified car lift for you. Our lighter-duty lifts cater to vehicles of all shapes and sizes. Telescoping swing-arms are tailor-made for either symmetric or asymmetric design. We also make low-profile arms to lift sports cars and other low-stance vehicles.
For those who need higher-capacity car and truck lifts, as covered by our 5,443-kg. and 6,804-kg. models, you get the same certified structure and components, as well as those all-importantetl, fully adjustable swing-arms.
And last but never least, our 8,165-kg. two-post ​lift is a true beast of a machine. As our highest-capacity model, it strikes fear in the heart of competitors who can't match our safety standards and incredible value, and it ensures you can safely lift just about anything that comes your way. Even if you see another brand with a lift rated for the same weight capacity, think twice before assuming it's as reliable and well-made as a BendPak. Other companies skimp on safety and performance. BendPak sets the benchmark for quality.
Frame Cradle Set for Trucks and SUVs
​You'll definitely appreciate this rugged SUV/truck frame cradle set on the end of the swing arms. Never lift a wide-bodied truck or SUV without an adapter set, even if the vehicle lift's weight capacity is sufficient for your vehicle. The SUV/truck frame cradle set prevents the vehicle from slipping off the rubber lift pad.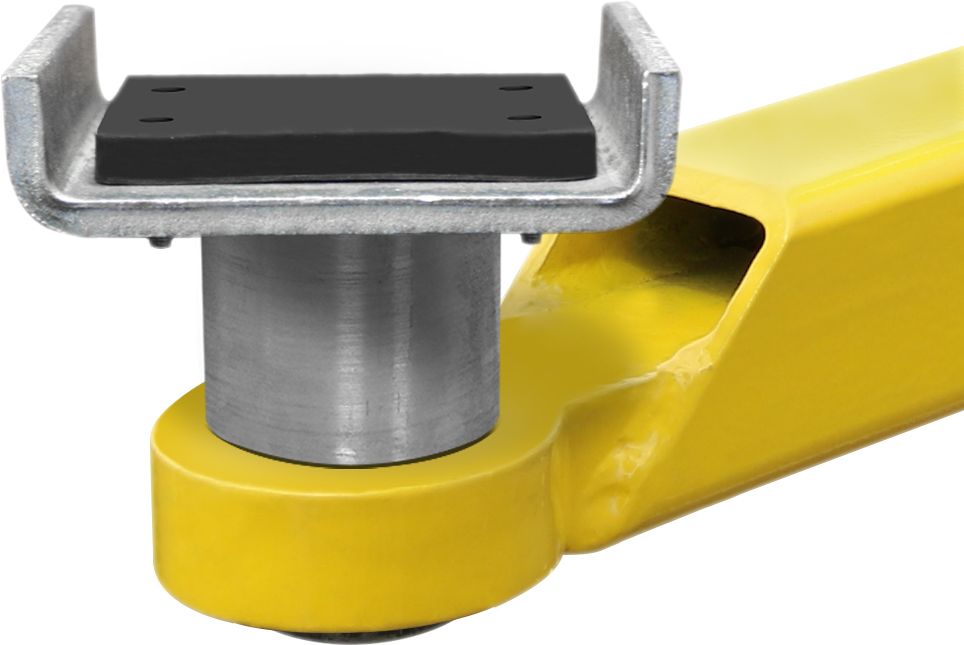 Which Two-Post Lift is Right for You?
Lift capacity is only one thing to consider when buying a lift. BendPak offers increased reliability and versatility, in addition to impressive lifting capacity. Each ​lift comes in a variety of widths and heights. Our Clearfloor two-post car lift models (e.g., XPR-15CL, XPR-18CL) provide unobstructed floor space. This design makes it easy for technicians to move toolboxes, transmission jacks, oil drains and other automotive equipment under the elevated vehicle.
However, if you have a low ceiling or find yourself lifting high-profile trucks and vans, you may want to opt for a floorplate two-post ​lift model. These are made without overhead obstructions, which increases headroom. You may even want to open a vehicle's doors while it's still on the car ​lift. In that case, you'll definitely want to check out an asymmetric car ​lift. No matter your auto equipment needs, BendPak has a high-capacity two-post ​lift ready to ship and install to your garage. Many of our ​lifts are ALI Certified, so ask us if you aren't sure. Note that weight capacity has nothing to do with whether or not a vehicle lift is certified. From the hydraulics design to the quality of the lift carriage; from the telescoping arms to the single-piece column construction, BendPak never, ever skimps on quality.
BendPak ​lifts are supplied with installation instructions and concrete fasteners meeting the criteria as prescribed by the American National Standard "Automotive Lifts - Safety Requirements for Construction, Testing, and Validation" ANSI/ALI ALCTV-201​7. Car lift buyers are responsible for any special regional structural and/or seismic anchoring requirements specified by any other agencies and/or codes such as the Uniform Building Code (UBC) and/or International Building Code (IBC).
Note: Not all BendPak lift models meet the standards as prescribed by ANSI/ALI ALCTV-2017 or ANSI/UL 201. Consult www.autolift.org for a complete list or contact BendPak via contact@bendpak.com.