Steel Lift Pads (60 mm)
SKU# 5215763
Steel Lift Pad Assembly / 60 mm Pin / SET OF 4
---
Fits all BendPak two-post lift models with 35 mm or 60 mm adapter pins. Designed for high-volume shops that are constantly loading / unloading vehicles, this pack of lift pads is perfect for your BendPak two-post lift.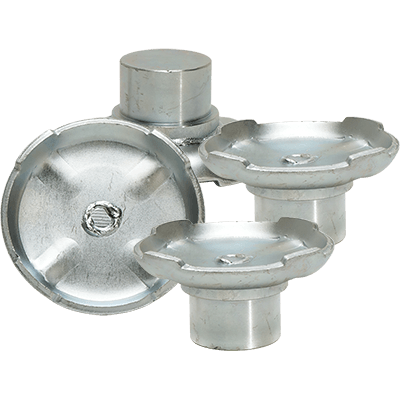 Steel Lift Pads with Adapter
Ultra-rugged Steel Lift Pad adapters are a must-have for any two-post lift seeing an especially large amount of action. With an all-steel construction, Steel Lift Pads are designed to take on heavy usage without wearing down, reducing your overall operating cost.
These hardened-steel lift pads have ridged edges that grip the chassis frame of your vehicle for an extra-secure hold, ensuring that your car stays put while you work. Steel Lift Pads also feature a 35 mm or 60 mm diameter adapter pin (sold separately) that fits securely into BendPak two-post lift arms. This gives you the power to change out your adapters with ease, and makes installation a quick and painless process.
Some shops deal with a heavy rotation of cars throughout the day. This puts a strain on lift pads that use rubber as the contact surface. Lift pad adapters with polyurethane rubber covers are great for protecting your frame from scratches, but the rubber pads will wear down if used heavily for an extended period of time. With these heavy-duty Steel Lift Pads you can work on the biggest and heaviest cars in the business, and never have to worry about buying a replacement set. If you're looking for lift pads that will last a lifetime, Steel Lift Pads are the way to go.
Features
35 mm or 60 mm pin available (sold separately)
Heavy-duty steel construction
Powder coat finish
Flanged edges for superior hold
Sold in sets of 4
Steel Lift Pads (60 mm) Specifications