HD-9SWX
SKU# 5175024
4,082-kg. Capacity / Four-Post Lift / Dual Platform / Super Wide / Extended-Length
---
HD-9SWX is ideal for anyone who wants a little extra standing room under their lift. Plus, the runways are 609 mm longer than our standard-length HD-SW. Park up to four cars, trucks and SUVs, and enjoy servicing two raised vehicles in a single lift.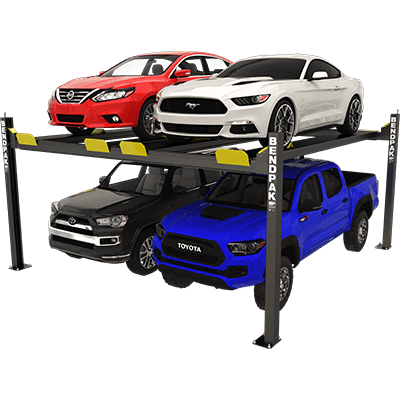 The Ultimate Extended-Length, High-Rise, Double-Wide Car ​Lift
If you're looking for a little more lifting height, extended-length runways and a lot less column interference, then our HD-9SWX four-post lift is the answer. This super-wide, extended-length model is designed to transform your garage into a state-of-the-art parking facility. It turns that two-car space into a four-car trophy stand. The HD-9SWX is an extended length model with higher rise to provide exceptional clearance underneath. The extra dimensions are particularly useful for parking or servicing long-wheelbase vehicles,
The best thing about this car lift is how easy it is to use. Low-stance vehicles glide onto the runways without risking damage to the chassis. It's a smart solution for family garages and professional spaces. Auto shops sometimes prefer large lifts like the HD-9SWX because their techs need equipment that allows them to work on virtually anything that rolls through their doors. The ​4,082-kg. capacity of this lift (​2,041-kg. max per car, per side) covers sedans and sports coupes. If you do need to step up into the next category of lifting, BendPak has four-post lift options, from the 6,350-kg. capacity HDS-14 series to the 18,143-kg. capacity HDS-40.
Features
4,082-kg. maximum lifting capacity
Freestanding design
Perfect for parking, storage and service
Double-wide configuration for quad-vehicle storage
Four runways
Super-tall rise
Extra-long ramp
Runways accommodate wide or narrow vehicles
Runways include rail-kit for optional accessories
Electric / hydraulic power system
Single hydraulic cylinder mounted underneath runway
Fully enclosed lifting cables, safety locks and sheaves
Internal anti-sway slider blocks in each column
Oversized self-lubricating cable rollers
Oversized sheave diameter reduces cable fatigue
High-speed lifting
Features heavy-duty ​9.5 mm aircraft cable
Rugged ​32 mm roller axles
Multi-position safety locks in each column
Adjustable lock ladders
Push-button pneumatic safety release
Independent backup slack-cable safety latches
Inside runways adjust for different tread widths
Customizable power unit location
Removable approach ramps for additional drive-under clearance
Optional drive-thru ramps available
Optional drip trays available
Optional solid deck available to increase storage capacity
Optional ​2,041-kg. air / hydraulic rolling jacks available
HD-9SWX Specifications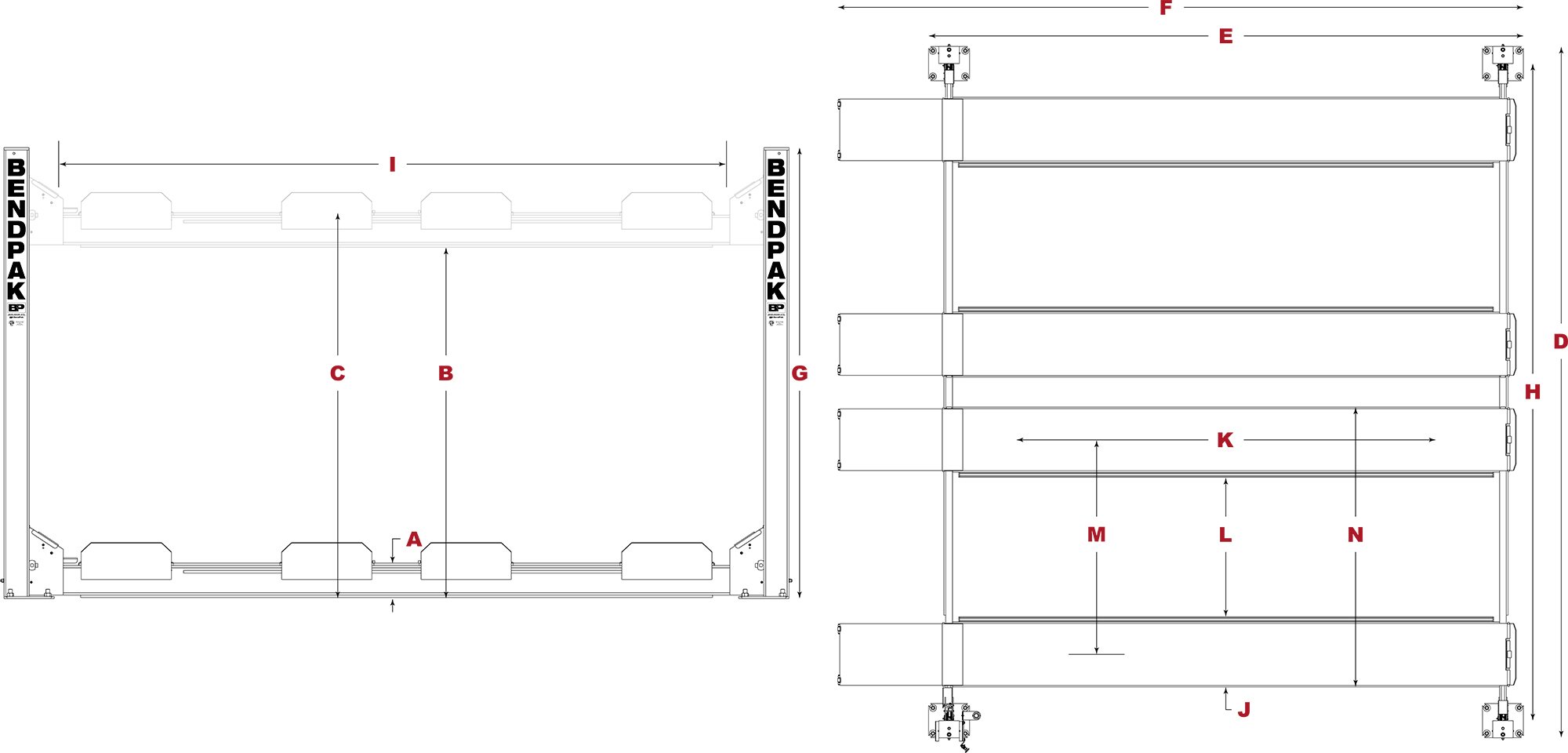 Capacity
*Max Capacity / Front Axle
4,500
*Max Capacity / Rear Axle
4,500
Rise
Time to Full Rise:
65 seconds
Inside Dimensions
H
- Width Between Columns:
192
I
- Drive-Thru Clearance:
178
Runways
L
- Width Between Runways:
N
- Outside Edge of Runways:
Locking
Lock Spacing:
Every 4" (102 mm)
Power Unit
Motor:
220 VAC / 60 Hz / 1 Ph
Shipping
Weight:
3,892 lbs. (1,769 kg)
Dimensions:
216" x 24" x 48" / 5,486 mm x 610 mm x 1,219 mm
Note: An air supply (minimum: 30 psi / 3 CFM) is required for the safety-lock mechanisms to disengage. It is solely the responsibility of the end-user to provide, install and maintain the air supply.
Note: Not all BendPak lift models meet the standards as prescribed by ANSI/ALI ALCTV-2017 or ANSI/UL 201. Consult www.autolift.org for a complete list or contact BendPak via contact@bendpak.com.