RP-20HD
SKU# 5150059
20-Ton (18-mt.) Shop Press / Two-Stage Hydraulic Pump / Commercial-Grade
---
The heavy-duty RP-20HD delivers up to 18,143-kg. of pressure to satisfy all your pressing needs. Two-stage pump action delivers incredible control, power and accuracy for a reliable press in commercial settings.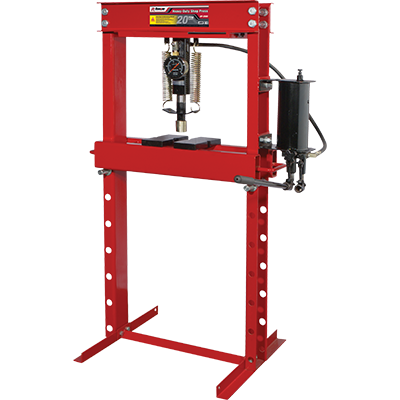 Industrial-Strength Shop Press Quality
This robust 20-Ton (18-mt.) press was designed for heavy use in repair shops but works just as well in your garage. Ideal for the removal and installation of gears, bushings and bearings, the RP-20HD also excels at bending, straightening and flattening. The applications are truly endless.
This heavy-duty hydraulic shop press features an independent two-stage hydraulic pump that provides incredible performance for the most rigorous pressing applications you can throw at it. Here are just some of the features exclusive to the RP-20HD Shop Press: a lateral moving cylinder, an integrated 102 mm diameter 20-Ton (18-mt.) pressure gauge, an independent two-speed hydraulic pump—all this on a rugged, heavy steel H-frame for extended durability. Two heavy-duty arbour plates included!
Features
Ideal for pressing bearings, U-joints, etc.
Hydraulic cylinder moves laterally for better versatility
Integrated 102 mm diameter 18,143-kg. pressure gauge
Independent two-speed hydraulic pump for maximum performance
Adjustable table height
Heavy steel construction
Includes two heavy-duty press plates
Specifications
Capacity
40,000 lbs. (18,144 kg)
Overall Height
60.25" (1,530 mm)
Overall Width
37" (940 mm)
Inside Width Between Rails
24" (610 mm)
Adjustable Table Height
7.5" - 36.25" (190 mm - 921 mm)
Base Dimensions
27.25" x 26" (692 mm x 660 mm)
Cylinder Stroke
5.5" (140 mm)
Shipping Weight
298 lbs. (135 kg)
Shipping Dimensions
19" x 63" x 23" (483 mm x 1,600 mm x 584 mm)