DST642D
SKU# 5140153
Wheel Balancer / 2D Quick-Touch™ / Drive-Check™ / 36 mm Shaft
---
The DST642D offers some of the fastest floor times of any wheel balancer machine ever made. Our exclusive Drive-Check™ technology automatically measures imbalances, so you can confidently ensure minimal weight placements will be used to achieve a perfect balance on the first spin.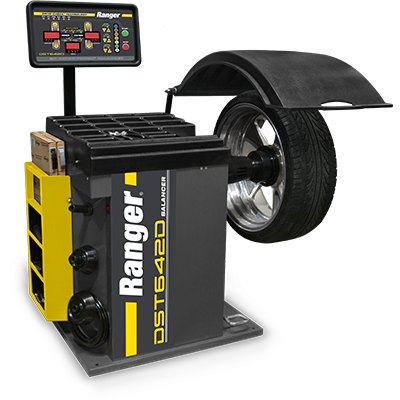 Get Drive-Check™ and 2D Quick-Touch™ Wheel Balancer Technology
Ranger Drive-Check technology makes it easier to automatically measure rotational imbalances. The Drive-Check program activates a driving simulation during all balancing modes, measuring imbalances through simulated real-world road conditions. This means our wheel balancer technology prepares operators to perfectly balance the tire and wheel assembly with absolute confidence that the wheel balancer will get it right the first time.
Highly precise digital sensor technology
Our Digital Sensor Technology is the "DST" in DST642D, and it's crucial to our wheel balancer engineering. The 64-bit, single-bit chip tech makes for speedier and more accurate balances. This permits operators to use a variety of balance and weight placement techniques for OEM and aftermarket tire/wheel configurations.
By using a single 64-bit chip, the DST642D wheel balancer ensures a more stable balance, and processing speeds are significantly improved. With less hardware involved, there's less maintenance to worry about over time. The dedicated hyper-transport protocol lets data "talk" with the micro-processor with much less delay, meaning less power is consumed. The internal components of the wheel balancer run at lower temperatures, further extending the life of the unit and improving performance.
Serpentine poly-V belt features a polyester-aramid fibre composite core to resist degradation of functional performance under extreme operating conditions. Poly-V belt mates perfectly with the motor and spindle sheave for continuous tension and distribution.
(1) Dynamic, (2) static, (1) standard alloy and variable alloy setting that enables you to select the exact weight placement location you choose for the specific wheel being serviced. Easily configured with the simple push of a button for a variety of wheel styles and designs.
Multi-directional quartz piezoelectric load sensors
Dual-component piezoelectric quartz load sensors combine with a single digital rotation encoder to record longitudinal, transversal and shear effects for multi-directional force unbalance detection. These sensors are extremely precise for greater stability, as well as reduced wheel balancer fatigue. The high-rigidity quartz crystal sensors mean higher frequency (aka faster, more accurate) detection for all tire/wheel assembly measurements.
Automatic wheel data entry
Our simple, easy-to-use inner data set arm allows you to quickly and automatically enter offset distance of the wheel assembly. The wheel width and diameter measurements can be manually taken and entered in seconds.
User-friendly operation
Durable soft-touch keys complete a user-friendly display panel that features tire and wheel graphics for faster entry of wheel data. The step-by-step interface takes minimal training to master, as the wheel balancer has big, bright icons that indicate each balancing function. Additionally, when any wheel is rolled top-dead-centre, the LED display will light up and an alarm will sound. Hidden or behind-the-spoke weight placement techniques are assisted by tiered weight placement indicators.
Inner wheel target lighting
The wheel balancer features a long-lasting LED inner wheel target light, which lights up the interior of the rim and identifies the best place to place weights. The light automatically activates when the wheel restraint pedal is engaged.
Multi-directional, anti-glare control panel
A fully adjustable control panel minimises sunlight glare and makes all wheel balancer operations (and ultimately your shop) more productive. The display can be moved in all directions to compensate for sunlight, overhead light fixture glare or user height/preference. Light diffuses off the screen to make readouts more visible—no more painful glare!
Quick and precise setup
Several centre cones, a rear-mounted spring and a non-marring "Quick-Nut" bell adapter assist in all wheel mounting procedures. They also protect wheels against costly scratches, dings and other damages.
Automatic weight optimization
The DST642D automatically detects the minimum amount of weight needed to achieve an optimum balance, so you're never "chasing" weights (a waste of time and money). The increased accuracy and efficiency of weight placement readouts make this wheel balancer worth every penny.
Tape weight feeder
Ranger's Quick-Peel™ adhesive sits conveniently in a side shelf and features an easy-to-use open-top design for fast access. Bulk rolls are available for restocking at any time.
Standard accessories and mounting cone package
The DST642D tooling package now comes with a medium-duty truck cone, in addition to the standard car and light truck cones. The four-piece cone set includes the following sizes: 45 mm -70 mm, 70 mm -​90 mm, ​90 mm -​108 mm and ​108 mm - ​130 mm. Other standard accessories include wheel caliper, weight hammer, rear mounting spring, Quick-Nut, Quick-Nut bell adapter and specialty calibration weight.
Wheel weight starter kit
With the purchase of your new DST642D wheel balancer, we throw in two bulk rolls of 100 silver and 100 black adhesive tape weights. We also include a starter box of mixed clip-on steel weights.
Flange plate kit
Precision balancing requires a flange plate kit, and this completely adjustable, multi-position design features centring pin adapters that fit almost all vehicles, foreign and domestic. The pin adapters also fit light-duty truck lug-bolt patterns. Lug-bolt adapters are better for wheel balancing than using the cone by itself, and your customers will feel the difference when they drive. Flange plate kit includes a measuring caliper.
Features
Automatic rolling wheel parameter setting feature saves valuable time and minimises errors
Low RPM balancing speed and rapid six-second cycle time
Automatic braking
Gram/ounce selection and millimeter/inch selection
An audible alarm and brightly displayed LED's identify exact weight amounts and precise positioning for perfect balancing
Tiered weight placement indicators help identify out-of-sight position weight placement such as split-weight or hidden "behind-the-spoke" techniques
Wheel restraint pedal secures wheels at precisely 12-o'clock for easier servicing and proper weight placement
LED inner wheel target light automatically illuminates the interior of the rim and helps identify the exact weight placement location. Auto-activates each time the wheel restraint pedal is depressed.
Manual or automatic start when hood is lowered
Self-calibration function
High-volume top weight tray and side shelf storage gives you room to inventory a wide variety of wheel weights and tools
Precision-machined, hardened-steel 36 mm shaft (ACME thread 30-degree 3-P)
Quick-release hub nut for dramatically reduced set-up times
Side cone storage pegs keep mounting cones readily available
Open-sided hood design allows for a broader coverage of tire shapes and sizes
Wheel Weight Starter Kit: Free samples of Ranger steel wheel weights are included. Starter Kit includes one bulk roll of 100 silver adhesive steel tape weights, one bulk roll of 100 black adhesive steel tape weights and one starter box of mixed clip-on steel weights.
DST642D Specifications
Style
Style:
Auto & Light Truck
Motor
1.5 HP, 110V / 220V, 50 / 60 Hz, 1Ph
Working Temperature
-5°C / 27°F - 50°C / 82°F
Cycle Time
6 - 12 Seconds (avg.)
Balancing Modes
1 Dynamic / 2 Static / Multi-Alloy
Drive System
Serpentine Poly-V Belt
Wheel Braking
Automatic / Pulse Electronic
Cones Included
3 Standard / 1 Truck
Max. Tire Diameter
1,270 mm (50")
Max. Tire Weight
68 kg (150 lbs.)
Wheel Diameter Capacity
254 - 762 mm (10" - 30")
Wheel Width Capacity
38 mm - 508 mm (1.5" - 20")
Balancing Increments
0.25 or 0.01 ounce
Accuracy
+- .5 Gram (.025 oz)
Resolution
5 Gram (.25 oz)
Shipping Weight
226 kg (498 lbs.)