LS43B
SKU# 5140151
Wheel Balancer / 3D Quick-Touch™ Laser-Spot™ / 36 mm Shaft
---
The LS43B wheel balancer by Ranger optimizes wheel weight placements with our exclusive Laser-Spot™ technology. A laser line clearly indicates both outboard and inboard weight placements for incredible balances within hundredths of an ounce. Wheels that are laser-balanced will drive like new!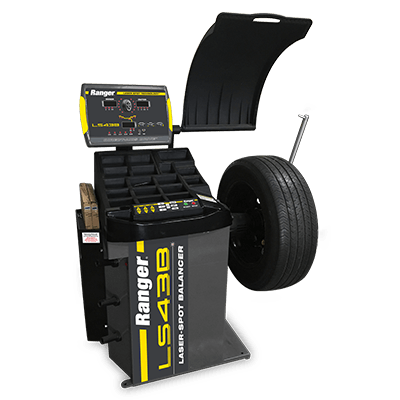 Supreme Speed and Amazing Accuracy
The Ranger LS43B wheel balancer handles wheels up to 43inches in diameter. The average cycle time is just 7 seconds, making it one of the fastest and most reliable balancing machines ever built. The standout feature on this model, of course, is Ranger's exclusive 3D Quick-Touch™ Laser-Spot™ technology that highlights the pinpoint location at which operators should place the minimal amount of weight in order to achieve a perfect balance at the 6 o'clock position. Ranger makes it easy to seamlessly determine the exact weight placement position. Only a single weight placement should be necessary for most wheel and tire configurations.
4 Smart Reasons to Get a Laser Wheel Balancer
Laser-Spot Accuracy
Lasers are increasingly being used in high-volume shops because they speed up weight placements by eliminating any second-guessing. This also means the balance check you perform after placing the inboard and outboard weights will almost always be clean. The fewer weights you use, the better your bottom line. Plus, customers will enjoy long-lasting balances that make their rides feel like new again.
Highly precise digital sensor technology
Our highly accurate Digital Sensor Technology features a 16-digit digital signal processor and single-chip technology that increases productivity and offers unprecedented speed and accuracy—especially when using sophisticated balance and weight placement techniques required for newer high-tech OEM and aftermarket wheels.
Multi-directional quartz piezoelectric load sensors
Dual-component piezoelectric quartz load sensors and digital rotation encoder measure longitudinal, transversal and shear effects for multi-directional force unbalance detection. The piezoelectric force sensors are the most sensitive sensors we have ever made, offering superior stability and fatigue resistance for unlimited service life with your wheel balancer. The high-rigidity quartz crystal sensors offer high frequency detection in all three measured directions.
Quick and precise setup
Multi-size center cones and a full rubber perimeter no-mar "Quick-Nut" bell adapter makes mounting wheels fast and easy and minimizes the risk of costly wheel damage.
Mounting cone package
The LS43B tooling package not only includes our standard car and light truck cones, as well as a heavy-duty truck cone and spacer ring. This well-equipped package includes three automotive and light truck cones: 1.75" - 2.75", 2.75" - 3.50" and 3.50" - 4.25", as well as one truck cone 4.50" - 5.00".
Tape weight feeder
An open-top side shelf accommodates a large roll of Ranger Quick-Peel™ adhesive tape weights. Additional weights are available for purchase at any time.
Automatic weight optimization
The LS43B automatically calculates the minimum amount of weight needed to achieve an optimal balance for the tire and wheel configuration, so you use less weight. This adds up to real savings and increases your bottom line.
User-friendly operation
An anti-reflective, touch-pad display panel features tire and wheel assembly graphics that help simplify the speedy entry of wheel data. It efficiently guides techs through each balancing procedure. Operator function keys are labeled with simple, easy-to-read icons to help operators identify and command all balancing functions.
LED rolling wheel weight displays
Bright LED weight placement indicators show weight positions as the wheel is gently rolled to exact top-dead-center. Tiered weight placement indicators help identify out-of-sight weight placement such as split-weight or hidden "behind-the-spoke" techniques. Aids with clip-on and tape weight placement at precise locations for zero-on balancing every time.
Wheel weight starter kit
A free kit of wheel weights is included with your brand new LS43B wheel balancer. Each unit's starter kit contains one bulk roll of 100 silver adhesive steel tape weights, one bulk roll of 100 black adhesive steel tape weights and one starter box of mixed clip-on steel weights. It's our way of getting you off on the right foot. Additional Ranger wheel weights are available for purchase at any time.
Features
Dynamic, Static, and Performance Alloy settings
Multi-user save function holds presets to increase productivity
Ergonomic control board and easy-to-read LED display
A simultaneous retrieval of static, dynamic and ALU1\ALU2\ALU3 data
Automatic rolling wheel parameter setting feature saves time, minimizes errors
Low-RPM balancing speed
Rapid 7-second cycle time
Automatic braking
Gram/ounce selection and millimeter/inch selection
Automatic round-off with top-dead-center weight position indicator
Tiered weight placement indicators help identify out-of-sight position weight placement (such as split-weight or hidden "behind-the-spoke" techniques)
Manual or automatic start when hood is lowered
Self-calibration function
High-volume top weight tray and side shelf storage gives you room to inventory a wide variety of wheel weights and tools
Newly designed side shelf features an open-top design that accommodates Ranger Quick-Peel™ adhesive tape weight convenient bulk rolls
Precision-machined, hardened-steel 36 mm shaft
Quick-release hub nut for dramatically reduced set-up times
Side-position brake hold wheels at precisely 12-o'clock for proper weight placement
Side cone storage pegs keeps accessories readily available
"Open-side" hood design allows for a broader coverage of tire shapes and sizes
LS43B Specifications
Style
Style:
Auto & Light Truck
Maximum tire diameter
1,194 mm (47")
Max tire weight
65 kg (145 lbs.)
Max wheel diameter
254 mm - 672 mm (10" - 30")
Wheel width capacity
51 mm - 457 mm (2" -18")
Balancing increments
0.25 or 0.01 oz.
Accuracy
+/- 1 gram (.035 oz)
Working temperature
-5°C (27°F) - 50°C (82°F)
Balacing modes
Dynamic / Static / 3-Alloy
Top positioning weight locator
Standard
Inside & outside measuring
Standard
Millimeter / inches selection
Standard
Ounce / gram selection
Standard
Wheel offset distance setting
Manual
Self-calibration function
Standard
Wheel spin braking
Automatic / Electronic
Wheel holding manual brake pedal
Standard
Centering cones included
3 Standard / 1 truck
Rear cone mount spring
Standard
No-mar rear cone mount pressure cup
Standard
Quick-release & mount hub nut
Standard